Land Rover 90 110 Defender Workshop Manual Including Supplements for Defender up to 1993 Brookland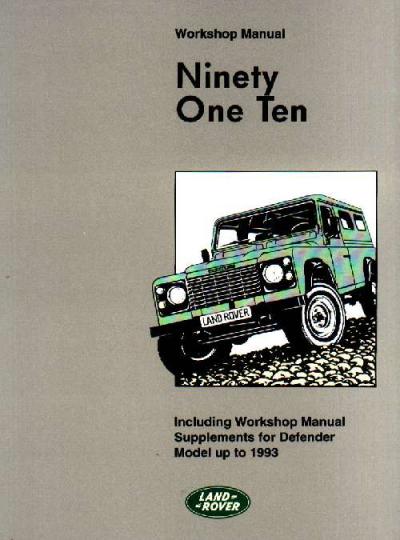 Get other
Land Rover repair manuals here
Land Rover 90 110 Defender Workshop Manual Covers all Land Rover 90 and 110 models.Also contains supplements for Defender Models up to 1993.Engines Covered: V8 (3528cc) 2.25 (2286cc) Litre 4 Cylinder Petrol 2.5 (2495cc) Litre 4 Cylinder Petrol 2.25 (2286cc) Litre 4 Cylinder Diesel 2.5 (2495cc) 4 Cylinder Diesel Engine plus TurboGearboxs Covered: LT77 5 Speed Manual LT95 4 Speed Manual LT85 5 Speed ManualContents: Index Section 1: Introduction General Specification Data Engine Tuning Data Torque Wrench Settings General Fitting Instructions Recommended Lubricants, Fluids and Capacities Index Section 2: Engine Fuel System Cooling System Clutch Index Section 3: Manual Gearbox Transfer Box Propeller Shafts Front and Rear Axle Differentials Index Section 4: Steering Suspension Brakes Chassis and Body Index Section 5: Heater Air Conditioning Electrical EquipmentOriginally Published By Land Rover Limited in 1984, 1989, 1990 and 1991. This Edition printed under licence from Land Rover 1994 and 1996Publication Numbers SLR621ENWM Edition 2 and Defender Workshop Manual Supplement SLR621EMWS1 and SLR621EMWS2.
Information on Repair and Service Manuals
Note that repair manuals are normally produced for models sold in a particular country. Differences in specification can exist between models sold in different countries and items such as installed engines can differ. Please check that the manual will cover your model before purchase and if you need more detail please contact us
here
.
.
Software: ClickCartPro, Copyright 1999-2018 Kryptronic, Inc. Exec Time: 0.123 Seconds Memory Usage: 4.871826 Megabytes