MG TF 2002 on Workshop Manual Brooklands Books Ltd UK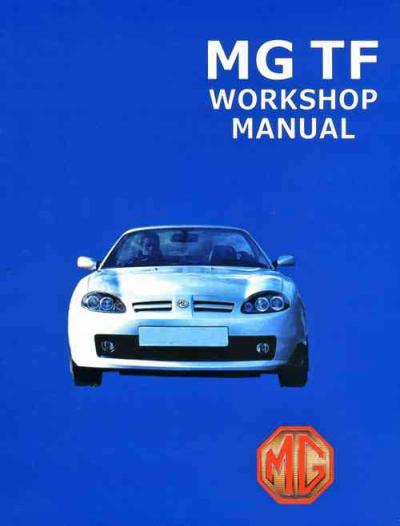 MG TF (2002-on) Owners Workshop Manual is a re-issue of the official factory manual and includes the following supplements: MG TF Workshop Manual RCL 0493(2)ENG quot;Kquot; Series Engine Overhaul Manual RCL 0057ENG (6th edition) PG1 Manual Gearbox Overhaul Manual RCL 0124 (2nd edition) MG TF Electrical Library including Circuit Diagrams RCL 0495(2)ENGCovers all components and tasks in great detail for both minor and major repairs, Covering the following engines: 1.6 Litre (1589 cc) quot;Kquot; Series multi-point fuel-injected 4 cylinder 1.8 Litre (1796 cc) quot;Kquot; Series multi-point fuel-injected 4 cylinder 1.8 Litre (1796 cc) quot;Kquot; Series VVC multi-point fuel-injected 4 cylinderContents: Introduction General Information Information Torque Wrench Settings Lifting and Towing Capacities, Fluids and Lubricants Maintenance Engine Engine Management System - MEMS Cooling System Manifold Exhaust Systems Manual Gearbox Clutch Automatic Gearbox - EM CVT Drive Shafts Steering Front Suspension Rear Suspension Brakes Restraint Systems Doors Exterior Fittings Hood Interior Trim Components Screens Heating Ventilation Air Conditioning Wipers Washers InstrumentsElectrical Library: Includes Electrical Precautions, a list of Abbreviations and general information on how to use this document. Fuse Details: provides details of location, rating in Amperes and circuit(s) protected. Earth Points and Headers: provides details of earth points and earth headers, including a plan view of the vehicle to aid location. Description and Operation: provides an explanation of how each of the systems operate. Circuit Reference Numbers: provides a list of circuit reference numbers against a module or feature to which they apply. Connector Details: details of connectors including a location photograph, face view and pin-out table.
Information on Repair and Service Manuals
Note that repair manuals are normally produced for models sold in a particular country. Differences in specification can exist between models sold in different countries and items such as installed engines can differ. Please check that the manual will cover your model before purchase and if you need more detail please contact us
here
.
.
Software: ClickCartPro, Copyright 1999-2018 Kryptronic, Inc. Exec Time: 0.105524 Seconds Memory Usage: 4.873638 Megabytes