Toyota Corolla ZZE122R 2003 2005 Haynes Service Repair Manual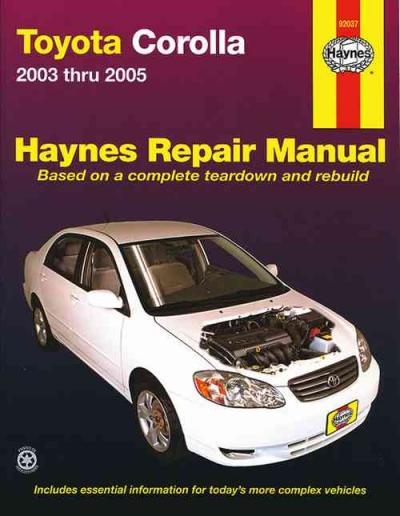 Get other
Toyota repair manuals here
Haynes repair manual for the 2003 to 2005 Toyota Corolla, US models, ZZE122R series, with 1.8 L (1794cc) quot;1ZZ-FEquot; DOHC with VVT petrol 4 cylinder engine.Please note: This manual does not include information specific to XRS models.Table of Contents: Introductory PagesAbout this Manual; Introduction; Vehicle Identification Numbers; Maintenance Techniques, Tools and Working Facilities; Buying Parts; Fraction/Decimal/Millimeter Equivalents; Jacking and Towing; Booster Battery (jump) starting; Automotive Chemicals and Lubricants; Conversion Factors; Safety First!; Troubleshooting Tune-up and routine maintenance Engines General engine overhaul procedures Cooling, heating and air conditioning systems Fuel and exhaust systems Engine electrical systems Emissions Engine Control systems Manual Automatic Transaxle Clutch Driveaxles Brakes Suspension and steering systems Body Chassis electrical system Wiring DiagramsPLEASE NOTE that these manuals are intended for petrol engine cars (except where diesel is specifically mentioned) built to US specifications. Whilst many of them are useful for the same make and model of car built for other markets, such vehicles may have different features, especially in areas concerned with safety and emission control. Please also note that these manuals have a soft (paperback) cover.
Information on Repair and Service Manuals
Note that repair manuals are normally produced for models sold in a particular country. Differences in specification can exist between models sold in different countries and items such as installed engines can differ. Please check that the manual will cover your model before purchase and if you need more detail please contact us
here
.
.
Software: ClickCartPro, Copyright 1999-2018 Kryptronic, Inc. Exec Time: 0.106092 Seconds Memory Usage: 4.890438 Megabytes