Toyota Echo Yaris Petrol 1999-2005 Haynes Service Repair Manual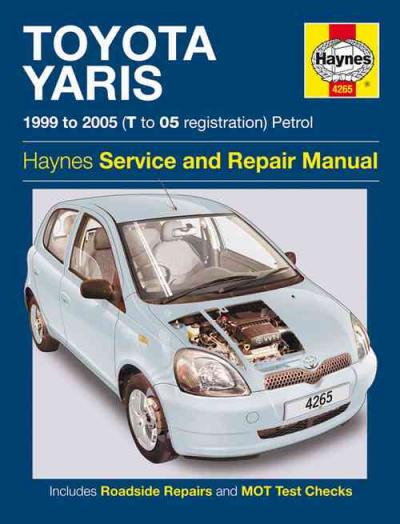 Toyota Echo (Yaris) Petrol 1999 - 2005 Haynes Owners Service & Repair Manual covers the Toyota Yaris, also known as the Toyota Echo in Australia and the Toyota Vitz in Japan.

4 Cylinder Petrol Engines Covered:
* 1.0 litre (998cc) 1SZ-FE
* 1.3 litre (1299cc) 2NZ-FE / 2SZ-FE

Does NOT include the 1.5 litre (1497cc) 1NZ-FE 4 Cylinder Petrol Engine or any Diesel Information.

Transmissions described:
* C551 5-speed manual (1.0-litre models)
* C154 5-speed manual (1.3-litre models)
* U440E or U441E 4-speed automatic

DOES NOT Cover T-Sport, Free-Tronic / MMT clutchless transmission, features specific to Verso models or Diesel models.

NOTE: Only maintenance, adjustment, minor repair procedures plus removal and installation are described for the transmissions.