Mazda RX 7 1986 1991 Haynes Service Repair Manual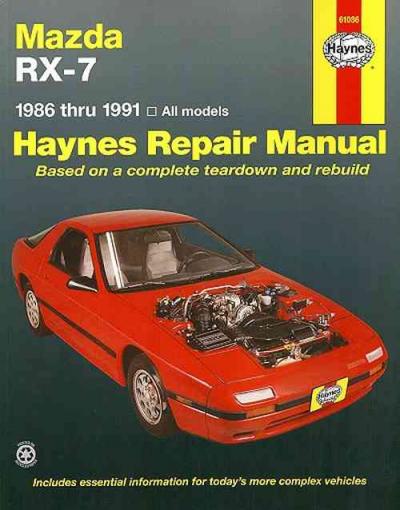 USA manual covering the US Mazda RX-7 1986 - 1991 Haynes Owners Service & Repair Manual covers all Mazda RX-7 models including turbo.
Engine covered:
* 13B Rotary (654 cc x 2 rotors) with or without turbocharger
Transmissions covered:
* 5-speed manual
* 4-speed automatic
Contents:
* Introductory Pages
About this Manual; Introduction to the Mazda RX-7; Vehicle Identification Numbers; Buying Parts; Maintenance Techniques, Tools and Working Facilities; Booster Battery (jump) starting; Jacking and Towing; Automotive Chemicals and Lubricants; Conversion Factors; Safety First!; Troubleshooting
* Tune-up and Routine Maintenance
* Engine
* General Engine Overhaul Procedures
* Cooling, Heating and Air Conditioning
* Fuel and Exhaust Systems
* Engine Electrical Systems
* Emissions & Control Systems
* Manual Transmission
* Automatic Transmission
* Clutch & Drivetrain
* Brakes
* Suspension and Steering Systems
* Body
* Chassis Electrical System
* Wiring Diagrams
NOTE: Only maintenance, adjustment, minor repair procedures plus removal and installation are described for the Transmissions.
Software: ClickCartPro, Copyright 1999-2018 Kryptronic, Inc. Exec Time: 0.1201 Seconds Memory Usage: 4.942513 Megabytes